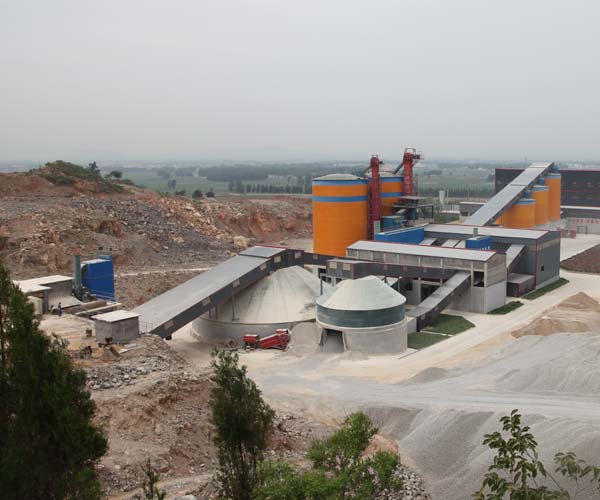 The Quarrying Process:
Quarrying is the extraction of naturally occurring stone materials, such as limestone, granite, marble, and sandstone, from the earth's crust. This process is a significant contributor to the global construction industry and the production of countless everyday products. The basic steps involved in quarrying are as follows:
Site Selection:
Quarry sites are carefully chosen based on factors like the quality and quantity of the material, accessibility, and proximity to transportation infrastructure. The location of a quarry plays a critical role in its environmental impact and sustainability.
Extraction:
Once a suitable site is selected, the extraction process begins. The specific methods employed depend on the type of stone and the geological characteristics of the deposit. Common extraction methods include drilling, blasting, and cutting.
Transport:
Extracted materials are transported to the crushing facility, where they are processed into various sizes and shapes to meet market demand.
Commonly Used Stone Materials:
A wide range of stone materials are extracted from quarries worldwide. Here are some of the most common types and their primary uses:
Limestone: Limestone is a sedimentary rock used in construction, as a base material for roads, and as an essential component in cement production.
Granite: Known for its durability and aesthetic appeal, granite is used in countertops, monuments, and building facades.
Marble: Renowned for its elegance, marble is used in sculptures, flooring, and high-end architectural finishes.
Sandstone: Sandstone is a popular choice for building facades and landscaping due to its natural beauty and durability.
Slate: Slate is often used in roofing, flooring, and as a writing surface.
Transporting Raw Materials to Crushing Facilities:
The transportation of raw materials from quarries to crushing facilities is a crucial link in the supply chain. Several methods are employed to achieve this, depending on the distance, quantity, and nature of the material:
Trucking: For short distances, trucks are the most common mode of transportation. They can carry large quantities of material and provide flexibility in terms of delivery schedules.
Rail Transport: In cases where the quarry and crushing facility are located at a considerable distance, rail transport becomes an efficient and sustainable option. Trains can carry substantial quantities of material and are more fuel-efficient than trucks.
Conveyor Belts: In some quarries, particularly those with continuous production processes, conveyor belts are used to move materials directly from the extraction site to the crushing facility. This reduces the need for additional transportation methods and minimizes environmental impact.
Shipping: For quarries located near bodies of water, such as rivers or the sea, shipping can be a viable option. Materials can be loaded onto barges or ships for transportation to the crushing facility.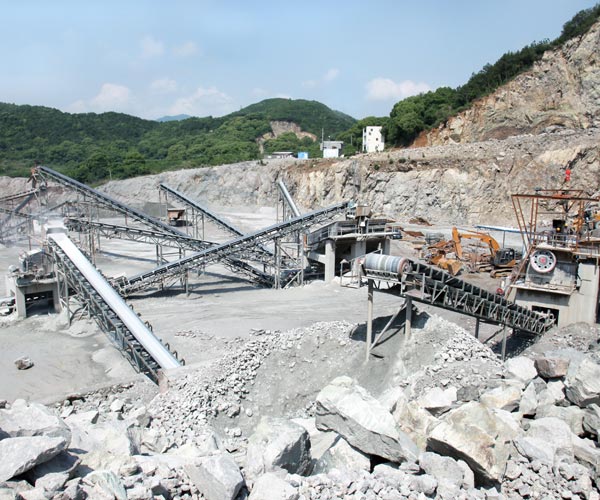 Unlocking the Secrets of Crushing and Screening: A Crucial Phase in Aggregate Production
The crushing and screening process is a fundamental step in the production of aggregates used in construction, road building, and various other applications. It involves the transformation of raw materials into a range of aggregate products, such as crushed stone, sand, and gravel, which are the backbone of many construction projects.
Equipment and Machinery
Crushing and screening require a variety of specialized equipment and machinery to break down raw materials into smaller, manageable sizes. These machines are essential for achieving the desired aggregate quality and quantity. The primary pieces of equipment involved in this process include:
Primary Crusher: This is the initial point of contact for raw materials, often large rocks or boulders. Primary crushers, like jaw crushers or gyratory crushers, are responsible for reducing the material's size and feeding it into the secondary crushers.
Secondary Crusher: After the primary crushing stage, secondary crushers come into play. Cone crushers and impact crushers further reduce the material size to the desired specifications.
Screening Equipment: Screening is crucial to separate the crushed material into various sizes. Vibrating screens, inclined screens, and trommel screens are commonly used to achieve this. They filter out oversized particles, ensuring that only appropriately sized aggregates move forward in the process.
Conveyors: These machines transport the raw materials, crushed products, and various other materials between different stages of the process. Conveyors are vital for efficiency and the reduction of manual labor.
Stackers and Reclaimers: These machines are used for stockpiling the sorted aggregates, ensuring they are readily available when needed for construction.
Dust Control Systems: To maintain air quality and reduce environmental impact, dust control systems are often employed to mitigate the dust generated during the crushing and screening process.
Steps in the Crushing and Screening Process
The crushing and screening process is a sequence of steps that transform raw materials into various types of aggregates. Here is a simplified breakdown of the process:
Feeding: The raw materials are loaded into the primary crusher, which breaks down large pieces into smaller ones.
Primary Crushing: The primary crusher reduces the material to a size suitable for further processing and moves it along the conveyor to the next stage.
Secondary Crushing: The secondary crusher further reduces the material size, ensuring it meets the specific requirements for the intended aggregate product.
Screening: After crushing, the material is screened to separate it into different sizes. Oversized materials are sent back for further crushing, while properly sized materials proceed to the next step.
Sorting and Stockpiling: The sorted aggregates are stacked using stackers and reclaimers. They are arranged by size and stored for later use in construction projects.
Quality Control: Quality control measures are implemented at various stages of the process to ensure the aggregates meet the required specifications. This may involve sampling and testing to check for particle size distribution, gradation, and other quality parameters.
Environmental Compliance: Throughout the process, measures are taken to ensure environmental compliance and minimize the impact on the surrounding environment. This includes dust control systems and other pollution control measures.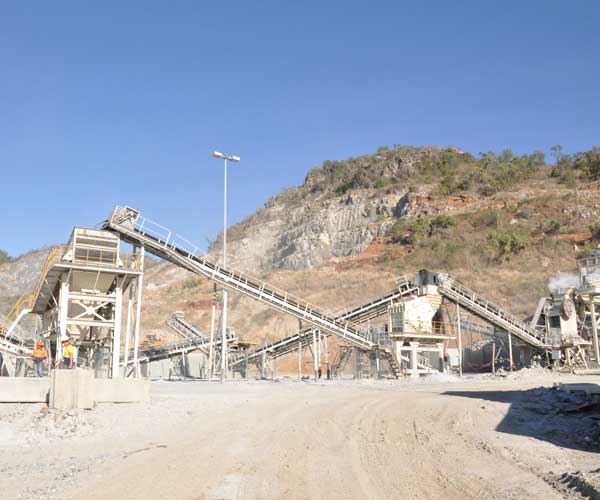 The Backbone of Infrastructure: Aggregate Production, Sorting, and Infrastructure Development
h6>Aggregate production, sorting, transportation, and infrastructure development are essential components of the construction industry. Aggregates, including crushed stone, sand, and gravel, are the building blocks of our infrastructure, serving as the foundation for roads, bridges, buildings, and various construction projects.
Aggregate Production: The Bedrock of Construction
The stone crushing process is the initial stage in aggregate production. This process involves the extraction and reduction of large rocks and boulders into smaller, manageable pieces, such as crushed stone, sand, and gravel. These materials serve distinct purposes in construction:
Crushed Stone:
Crushed stone is a versatile material used for various applications, including road base, concrete production, and as a foundation for buildings. Its durability and load-bearing capacity make it a crucial component of many construction projects.
Sand:
Sand, a finely granulated aggregate, is primarily used in concrete mixtures and mortar, providing strength and cohesion. It is also utilized in the manufacturing of glass, casting molds, and landscaping.
Gravel:
Gravel is often employed for drainage systems, as an essential component in concrete, and for constructing driveways and walkways. Its versatility and availability make it an integral part of the construction industry.
Aggregate Sorting and Storage
Once aggregates are extracted and processed, they must be sorted and stored efficiently to ensure a continuous supply to construction sites. Sorting involves categorizing the aggregates by size, shape, and quality. This step is essential as it determines the suitability of aggregates for various applications.
Aggregate sorting methods often include the use of screens, crushers, and washers to remove impurities and ensure consistency in size and quality. Proper sorting is crucial in preventing structural issues and optimizing the performance of construction materials.
Storage facilities play a vital role in maintaining the quality and integrity of aggregates. Aggregates should be stored in designated areas, protected from contamination, moisture, and extreme temperatures. Adequate storage facilities, whether open or enclosed, safeguard the usability and longevity of aggregates.
Infrastructure Development: Building the Future
The importance of aggregates in infrastructure development cannot be overstated. They are the foundation upon which our roads, bridges, and buildings are constructed. Here are a few examples of their critical roles:
Roads: Aggregates are the primary component of road construction. The base and surface layers of roads rely on various types of aggregates, such as crushed stone and gravel, to provide stability, durability, and skid resistance.
Bridges: The construction of sturdy and durable bridges necessitates the use of high-quality aggregates in concrete mixtures. Aggregates contribute to the structural integrity and load-bearing capacity of bridge components.
Buildings: Aggregates are essential in the construction of buildings, whether it's for foundations, concrete structures, or finishing touches. They provide the necessary strength and stability required for architectural and structural purposes.
Public Spaces: Aggregates also play a crucial role in landscaping and the creation of public spaces. Gravel and sand are used in pathways, parks, and recreational areas.
The significance of aggregates in infrastructure development extends beyond their physical role. A steady supply of high-quality aggregates is necessary for maintaining and improving our infrastructure, which, in turn, supports economic growth and societal development.