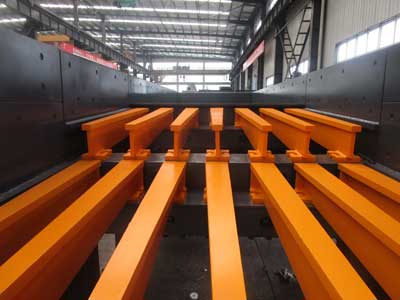 F5X Vibrating Feeder: An Innovative and Efficient Solution for Material Handling
Material handling is a critical aspect of any manufacturing or processing industry. The efficient and effective movement of raw materials, parts, and finished products can have a significant impact on the overall productivity, quality, and profitability of a business. To meet the diverse material handling requirements of different industries, various types of equipment are available, including conveyors, feeders, loaders, and hoppers. Among these, vibrating feeders have gained widespread popularity due to their versatility, reliability, and efficiency. In this article, we will focus on the F5X Vibrating Feeder, a cutting-edge solution that offers numerous benefits to material handling applications.
Overview of F5X Vibrating Feeder
The F5X Vibrating Feeder is a new generation feeder designed and developed by SBM Industrial Technology Group, a leading manufacturer of mining and construction equipment. This feeder is an upgrade of the traditional vibrating feeder and incorporates several advanced features that enhance its performance, efficiency, and durability. The F5X Vibrating Feeder is suitable for a wide range of applications, including primary crushing, secondary crushing, and screening. It can handle various types of materials, including bulk materials, granular materials, and powders, and can feed them uniformly and continuously to downstream equipment.
Key Features and Benefits
The F5X Vibrating Feeder stands out from other vibrating feeders in the market due to its unique features and benefits. Here are some of the key features of this feeder:
Enhanced Vibration Intensity

The F5X Vibrating Feeder uses a dual-vibration motor as the driving source. This motor generates a high-frequency vibration that enables the feeder to vibrate at a higher intensity compared to traditional vibrating feeders. The enhanced vibration intensity ensures better material flow and reduces the chances of clogging or blockage in the feeder. This results in improved efficiency, higher throughput, and reduced maintenance requirements.

Larger Feed Chute and Grizzly Bar Design

The F5X Vibrating Feeder has a larger feed chute and grizzly bar design compared to traditional feeders. This design enables the feeder to handle larger material sizes and volumes and ensures uniform feeding to downstream equipment. The grizzly bars also act as a screening mechanism that separates smaller particles from larger ones, improving the overall efficiency of the process.

Adjustable Angle and Speed

The F5X Vibrating Feeder has an adjustable angle and speed that allows for flexible and precise control of the feeding process. The angle can be adjusted to match the angle of the downstream equipment, ensuring smooth and consistent material flow. The speed can be adjusted to match the required feed rate, enabling the feeder to handle varying material volumes without overloading or underfeeding.

Sealed Design and Dust Collection System

The F5X Vibrating Feeder has a sealed design that prevents dust and other contaminants from entering the feeder and downstream equipment. This not only ensures a cleaner and safer working environment but also reduces equipment wear and tear and prolongs the equipment's lifespan. Additionally, the feeder has a dust collection system that collects any dust generated during the feeding process and disposes of it appropriately.

User-friendly and Maintenance-free

The F5X Vibrating Feeder is designed with user-friendliness and maintenance-free operation in mind. The feeder has a simple and intuitive interface that allows operators to monitor and control the feeding process easily. The feeder also requires minimal maintenance, thanks to its durable and reliable construction and the use of high-quality components.
F5X Vibrating Feeder Applications
The F5X Vibrating Feeder is suitable for a wide range of material handling applications, including:
Mining and Quarrying

In the mining and quarrying industry, the F5X Vibrating Feeder is widely used for feeding primary and secondary crushers. It can handle a variety of materials, including ores, rocks, and minerals, and can feed them uniformly and continuously to crushers, ensuring smooth and efficient crushing operations. The feeder's adjustable angle and speed also make it suitable for use in different stages of the mining process, such as loading and screening.

Construction and Demolition

The F5X Vibrating Feeder is also commonly used in the construction and demolition industry for handling materials such as concrete, bricks, and rubble. It can feed these materials to crushers, screens, or other processing equipment, enabling the separation of reusable materials from waste materials. The feeder's enhanced vibration intensity and grizzly bar design also make it suitable for handling bulky and irregularly shaped materials, such as construction debris.

Recycling

The F5X Vibrating Feeder is an essential equipment in recycling facilities for handling materials such as plastics, glass, and paper. It can feed these materials to sorting, shredding, or compacting equipment, ensuring the efficient processing of recyclable materials. The feeder's sealed design and dust collection system also make it suitable for handling dusty or hazardous materials, such as electronic waste.