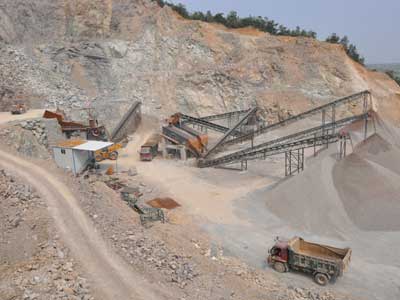 What Is Quarry
A quarry is a type of open-pit mine from which rock, minerals, or other materials are extracted. Quarries are typically used for the excavation of stone, sand, gravel, and other construction materials. The extracted materials are then processed, crushed, and screened to produce various aggregate sizes for use in construction projects, such as road building, concrete production, and landscaping. Quarrying plays a significant role in providing essential raw materials for modern infrastructure and construction.
What Crusher is Used at Quarry
Crusher Machines in Quarry Operations
Quarry operations involve extracting, processing, and transporting materials such as stone, sand, and gravel. Crusher machines play a critical role in the initial stages of processing by breaking down large rocks into smaller, more manageable pieces. This not only ensures efficient transport and use of the materials but also enables the production of different aggregate sizes, which are vital for various construction applications.
Types of Quarry Crusher Machines
Different Stages of Rock Crushing in a Quarry
Rock crushing is an integral part of the quarrying process, responsible for transforming large rocks into smaller, more manageable sizes suitable for various construction applications. The process typically involves multiple stages, each designed to handle specific tasks and produce different aggregate sizes.
Overview of Rock Crushing Stages
The rock crushing process in a quarry can be broadly divided into four stages:
Primary Crushing: The first stage reduces large rocks into smaller pieces, typically 6 to 10 inches in size.
Secondary Crushing: This stage further reduces the size of the material, typically to a range of 1 to 3 inches.
Tertiary Crushing: In some cases, an additional stage is required to produce even smaller particles, often less than 1 inch in size.
Screening and Washing: The final step involves separating the crushed material into different size categories and washing it to remove impurities.
Primary Crushing
Primary crushing is the first stage of the rock crushing process and usually involves a jaw or gyratory crusher. These crushers use compression to break the rock into smaller pieces, suitable for further processing.
Jaw Crushers: Jaw crushers consist of two plates or jaws, one fixed and one that moves back and forth. The material is fed into the crusher, and as the movable jaw compresses the material against the fixed jaw, it breaks into smaller pieces. Jaw crushers are ideal for primary crushing and can handle a wide range of materials, including hard and abrasive rocks.
Gyratory Crushers: Gyratory crushers are similar in principle to jaw crushers, but with a larger crushing chamber and a central axis that rotates. The material is crushed between the rotating crushing head and the chamber walls. Gyratory crushers are suitable for primary or secondary crushing and can process hard and abrasive materials. They are often used in large-scale mining operations due to their high capacity.
Secondary Crushing
Secondary crushing is the next stage in the rock crushing process and typically involves a cone or impact crusher.
Cone Crushers: Cone crushers use a rotating cone to crush the material against the surrounding walls. The material is fed into the crusher and is gradually compressed as it moves through the crushing chamber. Cone crushers are best suited for medium to hard materials and produce a uniform product size. They are commonly used for producing aggregates for road construction and railway ballast.
Impact Crushers: Impact crushers use the force of impact to break down materials. They feature a rotor that spins at high speed, hurling the material against a series of impact plates or hammers. This action results in the material being broken into smaller pieces. Impact crushers are ideal for processing soft to medium-hard materials, such as limestone or sandstone, and can produce a more cubical product shape.
Tertiary Crushing
In some cases, a tertiary crushing stage is necessary to produce even smaller particles for specific applications. This stage may involve a vertical shaft impact (VSI) crusher or a high-pressure grinding roll (HPGR) crusher.
VSI Crushers: VSI crushers use a high-speed rotor and wear-resistant tips to break the material by impact. The crushed material then exits the crusher through a series of screens, producing sand-like particles. VSI crushers are used for producing fine aggregates and manufactured sand.
HPGR Crushers: HPGR crushers use two counter-rotating rolls to compress the material between them. This results in the formation of microcracks in the rock, which makes it easier to break down into smaller particles.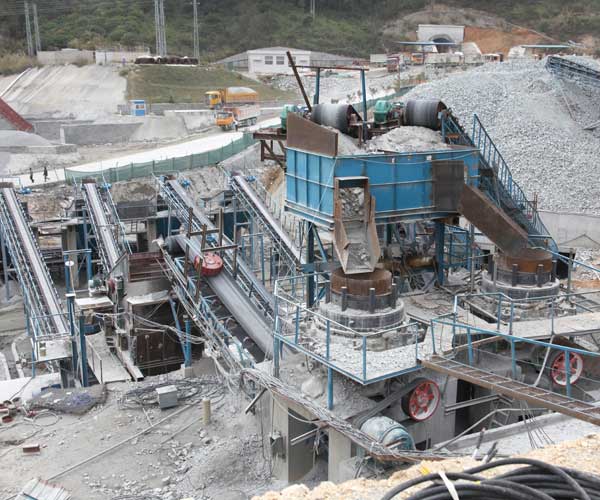 Quarry Crushing Process: From Extraction to Aggregate Production
Quarries are vital sources of materials like stone, sand, and gravel, which are essential for construction, infrastructure, and landscaping projects. The quarry crushing process involves breaking down large rocks into smaller, more manageable sizes that can be used in various applications
The Quarry Extraction Process
The extraction process begins with identifying a suitable site for quarrying. Geologists and engineers evaluate the geological characteristics and mineral composition of the area to ensure the quarry will yield a sufficient quantity and quality of material. Once a site is chosen, the following steps are involved in the extraction process:
Site Preparation: Trees, vegetation, and topsoil are removed to expose the rock formations. This step also involves establishing access roads, drainage systems, and safety measures.
Drilling and Blasting: To break the rock into smaller pieces, holes are drilled into the rock and filled with explosives. The explosives are then detonated, fragmenting the rock into various sizes.
Loading and Hauling: The fragmented rocks are loaded onto trucks using excavators or wheel loaders and transported to the crushing area.
The Quarry Crushing Process
Once the extracted material arrives at the crushing area, it undergoes several stages of crushing and screening to produce the desired aggregate sizes. These stages include:
Primary Crushing: Large rocks are fed into a primary crusher, which breaks them down into smaller, more manageable pieces. Jaw crushers and gyratory crushers are commonly used for this stage. The resulting material, known as 'run-of-mine' (ROM) material, typically measures between 6 and 10 inches in size.
Secondary Crushing: The material from the primary crusher is further reduced in size by a secondary crusher, usually a cone crusher or an impact crusher. This stage produces material that is typically 1 to 3 inches in size.
Tertiary Crushing: In some cases, a tertiary crusher is used to further reduce the material size. This may include a vertical shaft impact crusher, which can produce sand-like particles for specific applications.
Screening: The crushed material is then passed through a series of vibrating screens, which separate it into different size categories. This process ensures that the final product meets the required specifications.
Washing: In some cases, the material may need to be washed to remove impurities like clay or silt. This step usually involves a wash plant with water jets and a dewatering screen.
Aggregate Production
After the crushing and screening process, the material is classified into different aggregate categories based on size and shape. These categories include:
Coarse Aggregates: These are larger-sized particles, typically ranging from 0.5 to 2.5 inches. Coarse aggregates are often used as a base for roads, driveways, and other construction projects.
Fine Aggregates: These are smaller particles, usually less than 0.5 inches in size. Fine aggregates, such as sand, are used in concrete production, mortar, and landscaping.
Crushed Stone: This includes a variety of sizes and shapes, from large riprap stones to small, finely crushed particles. Crushed stone is used in various construction applications, such as concrete, asphalt, and drainage systems.
Specialty Aggregates: These are aggregates that have been processed or manufactured to meet specific requirements. Examples include lightweight aggregates for concrete production or recycled aggregates from construction and demolition waste.
Storage and Transportation
Once the aggregates are produced, they are stored in stockpiles according to size and type.
Factors to Consider When Selecting a Quarry Crusher Machine
Choosing the right crusher for a specific quarry operation depends on several factors:
Material Properties: The hardness, abrasiveness, and size of the material being processed will influence the type of crusher best suited for the job. For example, jaw crushers are suitable for hard and abrasive materials, while impact crushers work best with softer materials.
Desired Product Size and Shape: Different crushers produce varying product sizes and shapes. Cone crushers, for instance, produce a more uniform size, while impact crushers can create a more cubical shape.
Production Capacity Requirements: The size of the operation and the desired output will determine the most appropriate crusher. Large-scale operations may require high-capacity gyratory crushers, while smaller sites might opt for jaw or cone crushers.
Cost and Maintenance Considerations: The initial cost, ongoing maintenance, and potential downtime of a crusher should also be taken into account. Crushers with lower maintenance requirements and longer lifespans may be more cost-effective in the long run.