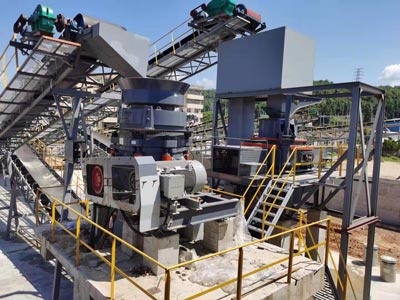 Basic Principles Behind Cone Crushers
To begin with, it's important to understand the basic principles behind cone crushers. These machines are designed to break down large rocks into smaller, more manageable pieces. They work by compressing the material between a stationary outer shell and a moving inner cone. As the cone moves back and forth, it creates a crushing action that breaks down the material.
Multi-Cylinder Hydraulic System
The HPT Multi-cylinder Hydraulic Cone Crusher takes this basic concept and adds a number of innovative features that make it a much more efficient and effective crushing machine. One of the key features of the HPT is its multi-cylinder hydraulic system. This system allows for the crusher to adjust to different crushing conditions, such as the hardness of the material being crushed or the size of the feed material. By adjusting the pressure and flow of the hydraulic system, the HPT can provide precise and consistent crushing performance, regardless of the conditions.
Advanced Control System
Another major benefit of the HPT is its advanced control system. This system uses a combination of sensors and software to monitor and optimize the crusher's performance in real-time. It can detect changes in the feed material or the crushing conditions and adjust the crusher accordingly. This not only ensures consistent performance but also minimizes downtime and maintenance costs.
Safety In Mind
The HPT is also designed with safety in mind. It features a number of safety systems, including a hydraulic overload protection system and a hydraulic clearing system. These systems work together to protect the crusher from damage due to overloading or foreign objects in the feed material. In addition, the HPT is designed to be easy to maintain, with quick and easy access to all the key components.
Energy Efficiency
One of the most impressive aspects of the HPT is its energy efficiency. Thanks to its advanced design and hydraulic system, the HPT can deliver up to 30% more crushing efficiency than traditional cone crushers. This means that it can crush more material using less energy, which translates into significant cost savings over time. In addition, the HPT is also designed to be environmentally friendly, with a low noise level and minimal dust and emissions.
So, who can benefit from the HPT Multi-cylinder Hydraulic Cone Crusher? The answer is just about anyone who needs to crush hard, abrasive materials. This includes mining companies, construction companies, and recycling operations. The HPT is particularly well-suited to crushing hard materials like granite, basalt, and iron ore, but it can also handle softer materials like limestone and sandstone.
The HPT Multi-cylinder Hydraulic Cone Crusher is a game-changing piece of equipment that offers a range of benefits that are hard to ignore. From its advanced hydraulic system and control software to its impressive energy efficiency and safety features, the HPT is a crusher that delivers consistent, reliable performance in even the toughest conditions. So, if you're looking for a crusher that can handle the toughest jobs and provide years of trouble-free operation, the HPT is definitely worth considering.